The ToyBoard® is a balance board, inspired by surfing, and manufactured in a short circuit in the south-west of France. It allows you to work on bodybuilding/tonicity/balance in all positions (standing, sitting, lying down, etc.). Playing with children, giving them self-confidence and autonomy, playing sports at home, working on deep muscles and balance, strengthening joints... the uses at home are varied!
The ToyBoard® consists of a foam developed to accommodate without distinction children and adults up to 110KG in an optimal way. Its density, 70k/m3, offers resistance and longevity. Its format, 101cm x 38.2cm x 15.5cm has been specially designed to free up the surface necessary for working standing, sitting, kneeling or lying down, no more, no less. The lightness of the material used and this format reduced to the essential make the ToyBoard® a useful, pleasant and handy object, whatever its use. On this foam, we just slip a cover, to make it more resistant and also to be able to personalize it, to give it colors.
This model benefits from a post-consumer recycled polyester cover, very resistant, easy to use and maintain, which offers a new dimension to our ToyBoard®. This cover, easily removable thanks to the elasticity of the fabric, is machine-washable up to 60C° for an impeccable ToyBoard® for longer.
 

 

 
Coating guaranteed for 10 years by the supplier / EU Ecolabel / STANDARD 100 by OEKO-TEX® /  Cradle to Cradle Certified® Bronze
100% RECYCLED POLYESTER 
sublimation printing on two-tone fabric
solvent-free water-based inks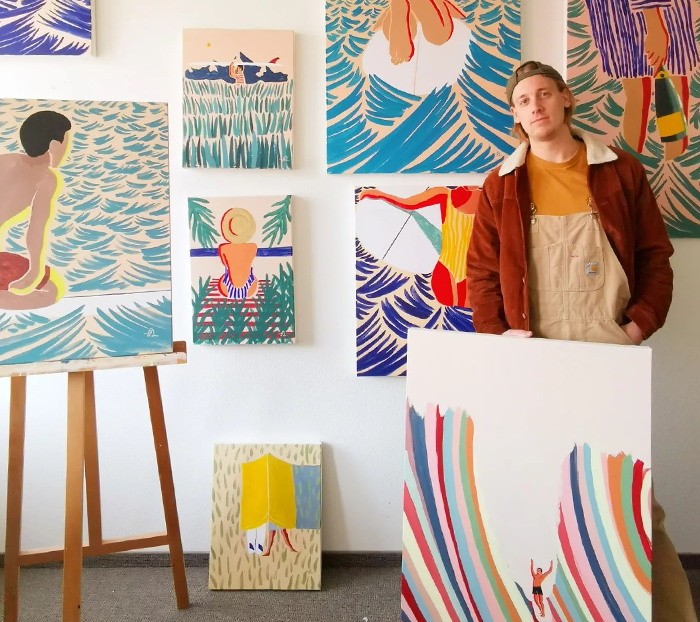 Fabian Lavater is a Swiss artist and illustrator based in Basel. Inspired by the surf, the ocean and all the other beautiful things mother nature has to offer, he paints on canvas and with a brush. Our collaboration was obvious and we are very proud of the result of our work together. This triptych was created between Biarritz and Basel and perfectly illustrates the link between Fabian and ToyBoard®: surf, ocean and nature. lavaterart.com


The ToyBoard® is ENTIRELY made in France, in a short circuit, within a radius of 200 km, with suppliers involved at all levels. Each station has been studied to keep only the essentials, which allows us to always be aware of our ecological impact. At ToyBoard® all operators are involved to deliver a useful, efficient and thoughtful product to you in order to be intuitive. Producing in France in 2023 means producing a quality product, reasonably, just with common sense.

It's up to you! In your package you will find neither instructions for use nor invoice (downloadable on the site if necessary) just the cardboard. This stretch of the imagination is precisely part of the work undertaken on ToyBoard®. Finding your own exercises, surpassing yourself, setting yourself challenges... here is what working on ToyBoard® is all about: working without realizing it just by challenging yourself! A simple story of balance.